Andrew McMasters & Andre Golard
Andrew McMasters is an international leader in coaching, training and consulting in the areas of communication, team building, leadership, executive presence and cultural change using the technique of applied improvisation. He is also the founder and Artistic Director of Jet City Improv, where he manages a company of over 40 actors and uses the skills of improvisation to innovate new performance techniques, presentations and formats.
Andre Golard spends his days exploring the fascinating nexus between brain science and business performance. Drawing upon his dual background as a scientist and business leader, he is able to tease out the "so what?" behind the latest developments in neuroscience. He explains how these discoveries translate into effective leadership, communication, and decision-making behaviors that offer leaders a distinct advantage in today's chaotic marketplace.
Talks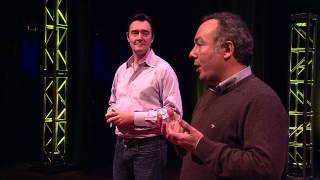 Andrew McMasters & Andre Golard