Acrobatic Conundrum
The Acrobatic Conundrum is dedicated to creating performance experiences that both engage and amaze audiences.
Conundrum shows feature moments of absurd and intimate humanity where the artists tell their stories as well as take physical risks live onstage. As a company, they are dedicated to a vision of human courage, connection, and collaboration.
Terry Crane, Co-Founding Director
Terry surrendered to restless urges that lead him to walk calmly away with the circus at the tender age of 20. Since then, his thirst for movement and performance mentoring has been a zigzag constellation of off the beaten path destinations, taking him to the San Francisco Circus Center, Montreal's National Circus School (of Cirque du Soleil fame), and the Beijing International Acrobatics School.
He has now performed in countless countries, on 3 continents, with various groups such as Circus Syzygy, Circus Monti and Teatro ZinZanni. Terry is a longtime practitioner of capoeira, contact improvisation, hip hop dance, physical theater, and tree climbing. He infuses his work with these influences as well as his own fiercely unique style.
What people are saying: "Imagine a Cirque du Soleil quality performance in an intimate venue…. and you'll have some idea of what transpires at the Acrobatic Conundrum's performances." -Steven Sieden, Huffington Post.
Talks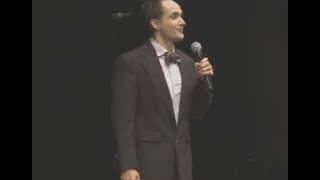 Acrobatic Conundrum
18:16
A circus performance shows how together we can be greater than the sum of our parts.